Add:Room 601-606, Building 5, No. 58, Chongchuan Road, Chongchuan District, Nantong City, Jiangsu Province
Contact: Gu Bin
Mobile phone:
Tel: +86-513-85326870
E-mail: ntlg@ntlg.cn
Sanding trim line of Wangli 019 wooden door
According to the overall development planning outline of Wangli (Sichuan) Wooden Door Intelligent Plant Project of Sichuan Wangli Tefang Door Industry Co., Ltd., the production line uses the German BECKHOFF controller CX5130, EL6021 communication module, taking Twincat2 as the core of the PC control technology, integrating the upper computer, networking the third-party MES AGV logistics system, and using Kingco human-computer interactive touch screen for separate cabinets. Start production, automatic material request (wooden door), production, palletizing, unloading, and production process data collection, build a digital intelligent (2.5-3.0) plant, and realize quality improvement, cost reduction and efficiency increase.
View details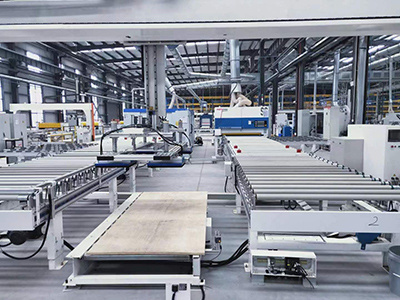 The system uses CX5130 controller. The CX5130 controller integrated with TwinCAT NCI platform can not only complete the interpolation motion function, but also greatly save the hardware cost of customers. It can also control the positioning axis of the incoming and outgoing materials. In addition to performing PLC and motion control functions, 1.46 GHz Intel ® Atom ™ The processor has excellent performance and supports the simultaneous operation of visualization (HMI) and CAD/CAM software on the same device. Multi-axis coupling function makes the synchronization between shafts fast, efficient and accurate. The customer downloads the CAD drawings required for production directly to the designated equipment through the central platform of the enterprise, and generates the G code path of the processed products directly by the CAM software. This method is convenient, efficient and intelligent, and is praised by the majority of customers.
View details