Add:Room 601-606, Building 5, No. 58, Chongchuan Road, Chongchuan District, Nantong City, Jiangsu Province
Contact: Gu Bin
Mobile phone:
Tel: +86-513-85326870
E-mail: ntlg@ntlg.cn
Project description: The Project uses 5G industrial route. The AGV trolley and industrial PDA are networked through wifi. Log in the RCS system from the PC terminal to draw maps, plan handling routes, set tasks, issue AGV trolley call, or carry out the point-to-point task handling rack through the hand-held terminal PDA. The trolley is equipped with automatic obstacle avoidance. The trolley shall automatically return to the charging pile for charging if the electric quantity is lower than the setting percent. Reduce manual handling and realize automation management.
View details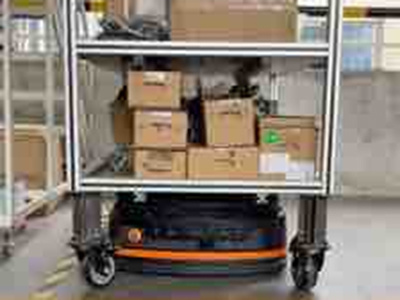 Shanghai Baosteel (Tangshan Zunhua)
The project is mainly based on Tangshan Zunhua Baosteel (hereinafter referred to as Zunhua Baosteel), which proposed a series of raw materials and semi-finished products transportation lines based on its production technology. The whole line will be composed of RGV trolley, one-way roller table and a small part of two-way roller table. Beifu CX5130 controller, TwinCAT 3 software platform, EtherCAT terminal module and ultra-high-speed EtherCAT communication are used as the intermediate carrier to connect the upper computer and RGV logistics line for communication control. Demand function: traditional transportation often encounters five headache problems: slow, chaotic, crowded, wrong and complex. Intelligent transportation solves these problems well. RGV is a kind of equipment produced with automatic transportation and storage warehouse. RGV can easily realize automatic connection with other logistics systems, such as entrance/exit platforms, various buffer stations, conveyors, elevators and robots; Deliver materials as planned. In addition, the shuttle car needs no personnel to operate and runs fast, which significantly reduces the labor workload and improves labor productivity. At the same time, the application of RGV can make the transportation system very convenient.
View details