Add:Room 601-606, Building 5, No. 58, Chongchuan Road, Chongchuan District, Nantong City, Jiangsu Province
Contact: Gu Bin
Mobile phone:
Tel: +86-513-85326870
E-mail: ntlg@ntlg.cn
In this case, 6015 is used as the PLC control system, and 8 servos are controlled via Ethercat bus. The 5 axes of the workbench XYZAB work in absolute positioning mode to determine the coordinate position of the hole. Drilling servo shaft 8 works in speed mode. Servo shafts 6 and 7 transport iron wire and rubber in relative fixed length mode. In a very short time, realize the response of servo and PLC, complete the relative fixed length and hole position movement. In addition, it is also equipped with manual mode. In manual mode, the handwheel can realize static coupling with each axis, which is convenient for manual operation and commissioning.
View details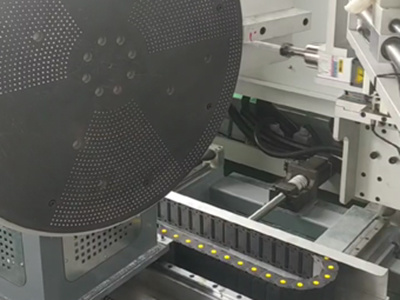 Perforation of car seat leather
The project uses Bev controller C6015 EtherCat bus technology with 14 SMC valve islands to control more than 300 solenoid valves, which can act simultaneously in 0.5 seconds, with high real-time performance and high needle action accuracy. With the upper software and ADS protocol, the CAD file is read and the array data is sent to Bev controller for execution, which is easy to operate and improves production efficiency.
View details